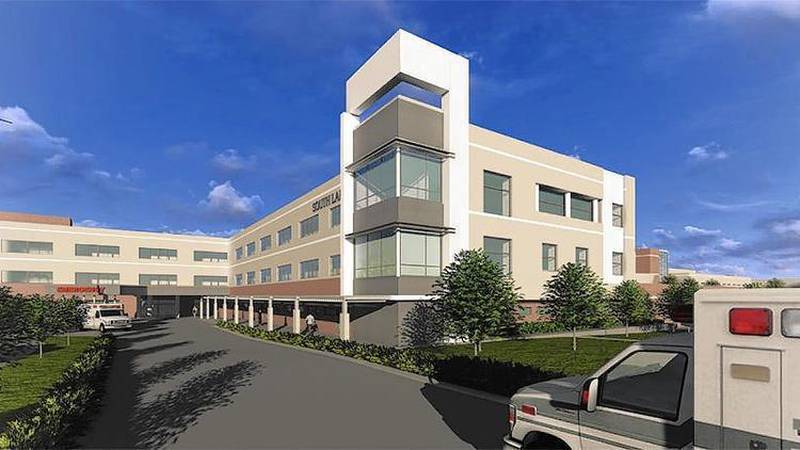 After more than two decades of joint partnership, Orlando Health is taking full control of South Lake Hospital in Clermont, the health system announced on Monday.
Orlando Health is investing $128 million in a new foundation that will help fund health-care services in south Lake County. The health system has also committed more than $99 million over five years for capital improvements throughout Lake County.
"This agreement represents a defining moment in south Lake County healthcare," said John Moore, president of South Lake Hospital, in a news release. "It allows us to strategically plan for the future with one of the top healthcare organizations in the region, while maintaining the culture of South Lake Hospital."
South Lake Hospital — known as South Lake Memorial Hospital in its early days — was established in 1941 as a 10-bed clinic.
Today, the hospital has 170 beds. With 1,600 employees, South Lake Hospital is the third-largest employer in the county. The hospital said it had a $229 million financial impact in the community in 2015.
Orlando Health and South Lake Hospital created a joint partnership in 1995, in which Orlando Health took over the day-to-day operations of the hospital and 50 percent board representation.
"This agreement is the final phase of that very successful relationship," said Paul Rountree, who served as chairman of the South Lake Memorial Hospital board of directors when the 1995 agreement was consummated, in a news release.
South Lake Hospital began a $50 million expansion project in 2016 to double the size of its emergency department and build two off-campus facilities: a free-standing emergency department at Four Corners and an urgent care center. The hospital has also added a new cancer center on its campus since then.
Orlando Health said in a news release that the integration will give South Lake Hospital the scale necessary for "long-term relevance in today's rapidly changing healthcare environment."
As part of the agreement, Orlando Health announced that it will provide $128 million in funding to a new foundation called Live Well Foundation of South Lake County.
In 1969, the Florida Legislature created a tax district to help the hospital with emergency services and indigent care. That taxing district is going away by next October.
"With the October 2019 dissolution of the South Lake County Hospital District, we felt it necessary to create an ongoing funding source to address healthcare needs in our community," said Rountree. "All funds generated by the Foundation will remain in south Lake County."
Live Well Foundation filed an application for tax-exempt status on Nov. 13 this year and is searching for an executive director.
The agreement between Orlando Health and South Lake Hospital was drawn up on Sept. 28, 2018 and will be final once Live Well becomes a tax-exempt entity.
This article was originally published in the Orlando Sentinel.