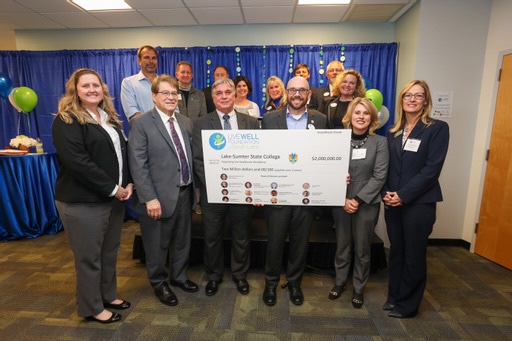 The Live Well Foundation of South Lake has awarded Lake-Sumter State College and the LSSC Foundation a $170,500 grant in support of a new associate degree (AS) in Medical Lab Technology.
Florida's Department of Economic Opportunity forecasts hundreds of job openings in Central Florida each year for Medical/Clinical Lab Technologists and projected job growth of over 15 percent through 2028. LSSC's planned program would help fill this workforce demand and will be the only AS in Medical Lab Technology offered by a Florida College System institution in Central Florida.
"Throughout our workforce region and the state of Florida, we are seeing growing demand for a wide range of healthcare professions and the new medical lab tech program is an important addition to our existing allied health offerings," said Dr. Michael Vitale, Senior VP of Academic Affairs at Lake-Sumter State College.
"The Live Well Foundation Board of Directors chose to support Lake-Sumter State College's Medical Laboratory Technology program to solve a need for this health-related service," said board chair Dr. Kasey Kesselring. "There is currently an extensive list of employment opportunities for this profession in Lake and Sumter Counties, including all four hospitals. Our community will now have the resources to prepare students for employment as medical/clinical laboratory technologists or medical laboratory technicians."
"On behalf of the College and the LSSC Foundation Board of Directors, I am extremely grateful for this significant support from the Live Well Foundation of South Lake," said Dr. Laura Byrd, Senior VP of Institutional Advancement and Executive Director of the LSSC Foundation. "This grant allows us to begin working toward the launch of the Medical Lab Tech program as early as Fall 2022."
Medical Lab Technologists work in clinical lab settings in doctor's offices or hospitals and perform a wide array of tests on blood, tissue, and other bodily fluids. These results can then be used by doctors to diagnose and treat patients.
In Florida, Medical Lab Techs must earn an AS degree in a program such as Medical Lab Technology to be eligible for employment and licensure by the Florida Board of Clinical Laboratory Personnel. Students must also pass a national certification exam.
As a standard part of the academic program planning process, this degree program still requires approval from the LSSC District Board of Trustees and the College's regional accrediting agency, SACSCOC.
This story originally ran in the Leesburg News.