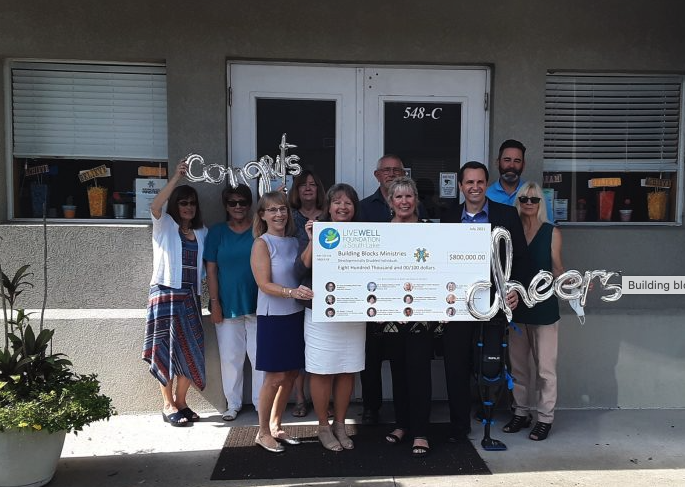 Building Blocks Ministries was recently awarded $800,000 of grant funding by the Live Well Foundation of South Lake to support the organization's Expansion and Enhancement Project. 
The mission is "Empowering adults with developmental disabilities to dream, believe in themselves and engage in training designed to support individual achievements." Funding for this project will allow Building Blocks Ministries to secure a larger facility to allow the organization to increase enrollment and add additional programs and services for adults with developmental disabilities.
About Live Well Foundation of South Lake. The Live Well Foundation, established in 2019 as a 501(c)(3) and dedicated to inspiring sustainable initiatives that enhance the health and wellness of the South Lake community, aspires to attract and fund much-needed healthcare and healthy lifestyle programs to serve residents. Visit Live Well Foundation online at lwfsl.org for more information.
The Live Well Foundation of South Lake, Inc. was formed with an agreement between Orlando Health and the South Lake Memorial Hospital organization which resulted in South Lake Memorial Hospital relinquishing its seats on the board of South Lake Hospital. Orlando Health generously provided $128 million to the new foundation. The contribution coincided with the South Lake Hospital becoming a controlled subsidiary of Orlando Health.
Live Well Foundation of South Lake intends to be a long-term partner in bringing more healthcare choices and healthier lifestyle services to the people of South Lake County.
Founder/Executive Director Dr. Paula Whetro states, "the investment that the Live Well Foundation of South Lake has made in our Expansion and Enhancement project will impact the lives of adults with developmental disabilities living in South Lake County for many years to come. We look forward to moving our project forward and implementing many of the things in our current five-year Strategic Plan. Words can't properly express the gratitude that's in my heart."
Located in Minneola, Building Blocks Ministries has been serving the community since 2006 providing a Day Training Program, Transportation Services, and Case Management Services.
Building Blocks Ministries is a FL Medicaid Waiver Provider and accepts private payment. For enrollment information please contact Coretta Daniels, Case Manager at 352-536-9264 or by email at info@buildingblocksministries.com. To learn more about Building Blocks please visit the website www.buildingblocksministries.com.
This article was originally published in the South Lake Tablet.